Urban Garden is proud to once again sponsor Sonoma County's Secret Santa program. This rewarding program allows you to fulfill the Christmas wishes for members of our community most in need.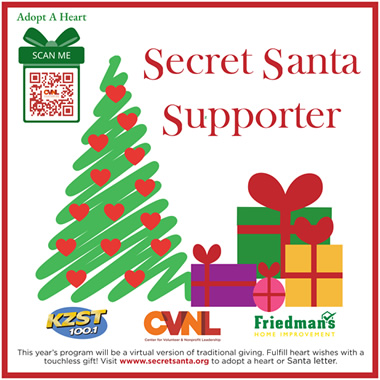 This year, due to Covid-19 restrictions, Secret Santa is going virtual. Instead of selecting a wish "heart" from our tree and returning the gift to our store, you may select a wish online. Fulfill the wish by making a donation online or by purchasing a gift card and mailing it to the Center for Volunteer & Nonprofit Leadership.
You'll find thousands of wishes to fulfill from the Secret Santa website. Simply select a wish "heart," then follow the simple instructions to fulfill the wish. It's a wonderful, no-contact way to truly help those less fortunate and to spread the spirit of giving this holiday season.
Be someone's Secret Santa today!