Members enjoy fabulous rewards! Receive $5 off your next purchase every time your spending reaches $150. Plus, take advantage of fabulous specials throughout the year, available only to my Urban Rewards members!
Use your rewards card every time you shop at Urban Garden to take advantage of all these member benefits!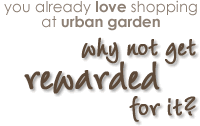 Become a my Urban Rewards member today!
Not sure? Visit our Frequently Asked Questions for more information.